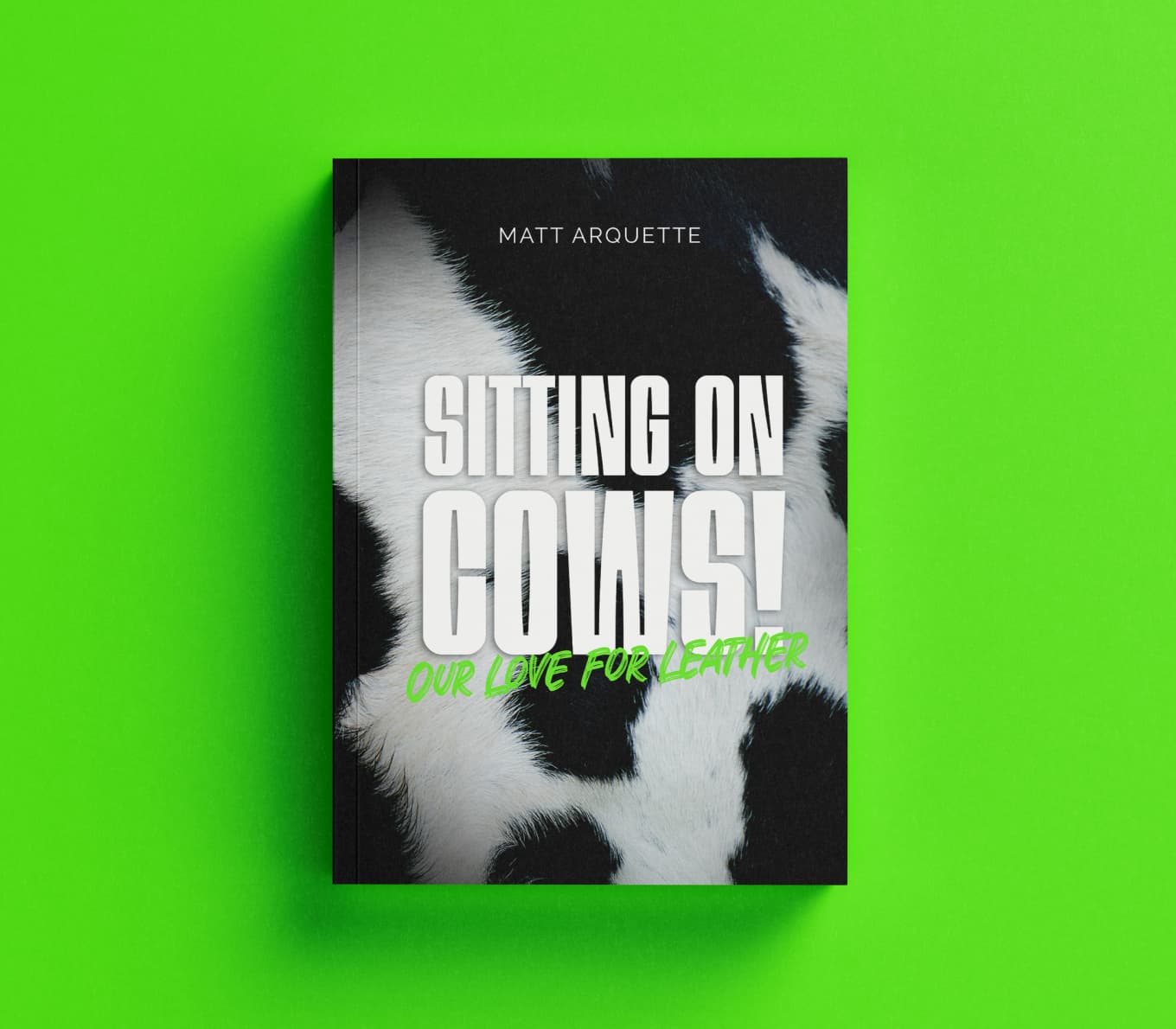 Sitting on
Cows!
Our Love for Leather
One of the most luxurious ways cows contribute to our daily lives, the focus of this book, is leather. Cows offer such a variety of highly valued products that to focus on any one of them would merit a book of its own.
Get the Book on Amazon
Really interesting, and a personal approach
I really enjoyed reading this book, from cover to cover. There are some really interesting facts about the processes used to create the products we use that often go unnoticed, or taken for granted. The whole thing is wrapped in the personal story of the author and his journey to becoming a success in the industry... a good pick up for a bright and light heated read!
Philip Phelan
I recently had the pleasure of reading Sitting on Cows and Our Love for Leather, by Matt Arquette. This book is a hilarious look at how the human race has evolved to be so dependent on leather, and how we can express our love for it in the most unexpected ways.
Matt offers funny anecdotes and stories throughout the book, which kept me entertained and laughing throughout. He presents the history of leather in an interesting and entertaining way, which makes it easy to understand why we have such a strong bond with this material. He also covers various topics such as the health benefits of using leather, how it is made, and how it has become a symbol of wealth and status.
The highlight of this book, however, is the author's exploration into the cultural phenomenon of "sitting on cows." Matt uses this theme to explore the many ways we have found to use this material for our own comfort and pleasure. He also looks at the different ways in which leather has been used to express our love for it, from clothing to furniture.
All in all, Sitting on Cows and Our Love for Leather is a great read that is both informative and entertaining. Matt has put together an informative and entertaining read about a material that has been a part of our lives for centuries. If you're looking for a lighthearted book about the history of leather and its many uses, then this is the perfect read for you.
Ann Tipper
Witty and knowledgable !
I found this book to be thoroughly enjoyable, witty and knowledgable. Packed full of intriguing and interesting facts and stories about cows and leather what we do with them in various creative ways ! A perfectly enjoyable read.
Jo H
Lighthearted stories and witty anecdotes
Matt Arquette's book, Sitting on Cows and Our Love for Leather, is a humorous take on the beauty and craftsmanship of leather. With lighthearted stories and witty anecdotes, Arquette captures readers' attention while sharing fascinating facts about the history of leather and its production. He also gives readers an insight into the lives of working cowhands and provides practical advice on how to care for leather products. It's an enjoyable read for anyone looking for a lighthearted look at the history and production of leather. It's sure to make you laugh while also giving you an appreciation for the craftsmanship of leather.
Adam Meek
Laughing and Learning
"Matt Arquette's 'Sitting on Cows and Our Love for Leather' is a hilariously funny book that will have readers laughing out loud. From the ridiculous title to the absurd stories within, this book is sure to bring out the best in everyone. Arquette's writing style is both witty and clever, making the book an enjoyable read. With its unique take on the world of cows and leather, this book is sure to have readers laughing and learning more about the subject. Highly recommended for a lighthearted read."
Richard B
Matt is an incredible designer, his creativity is limitless. Challenging materials shape & function into furniture design of unique fashionable forms he can create amazing styles.
Matt is the most creative designer I have ever worked with. He is good at listening to the ideas of customer, he has a keen insight into the market, and has an excellent understanding and grasp of brand positioning and consumer needs, designing to a unique standard. I'm so Very thankful for his supporting creativity over so many years!
It was clear from the first moment I met Matt he was not only a passionate and talented furniture designer but also a very savvy designer that understood the challenges his customers faced in managing a product from design to final customer delivery on the other side of the world. I've had the pleasure of working with Matt for many years now even managing bringing his expertise too IKEA. To this day Matt is the most inspiring furniture designer that I've been lucky enough to work with, also the most fun guy to spend time with
Working with Matt has been very enjoyable and productive.
On the one hand, Matt is very creative. He always can use very good concepts, ideas, elements, materials, techniques to interpret new designs, every time you can be be surprised to see a new design .On the other hand, it is very expressive as Matt's product plans, drawings and model drawings are amazing.
Having the honour to work with Matt he is a designer with craftsman spirit. He is very persistent in designing and strives for perfection in every detail. He is brave in innovation, the designs he creates are unique and leading the trend;
He Constantly pursues self improvement and growth keeping pace with the times. Matt has a strong affinity and very popular in teams and also incredibly independently self disciplined.
Matthew Arquette started working with us in 2007 designing a number of our top selling Upholstery ranges. The ranges were featured in various Global Furniture retailers and all ran for a number of years.
Since then we have continued our association with Matt and cooperated in further Upholstery projects as well as for Cabinet collections.
He is great to work with both in terms of creating commercial designs and also his timing and flexibility to complete projects. He uses very good graphics packages making it easy to visualise the anticipated results.
BlueRock Sourcing Solutions
The consummate professional, Matt consistently delivered above and beyond what was requested and always with amazing speed, quality and positivity.
I have known Matt for nearly 20 years, since the heady days of Pendragon Furniture - Chrstie Tyler in South Wales
Since then I have been involved in many projects with Matt in upholstery in Asia, he has always had a good eye for a product and can work from all different types of briefs and all levels of the upholstery spectrum. He also Understands different markets and the demands of each market.
It is always a pleasure to work alongside him.
I had the privilege to work with Matt years back when I was the Chief Designer at Flexsteel Industries. Matt worked as a consultant Design for one of our Asian partner factories. Matt was a highly creative and prolific designer that not only listened to what we wanted, but offered up multiple viable concepts that turned into successful products in the marketplace. His technical design skills were as good as his creative skills. Besides his chops as a designer, Matt always had a great attitude and sense of humor, which made the whole process enjoyable!